Lose weight naturally and fast with our heart healthy diet plan.  Our electrical stimulation treatment blocks the cravings for unwanted stimulants in the diet such as sugar, carbohydrates and processed foods.  Our treatment protocol is based on an ancient Chinese protocol for rapid drug detoxification. Our goal is to rid the body of its toxic waste buildup stored in the fat. With this program, you will lose weight naturally and fast.
After detoxing, the body feels cleaner and lighter. Our treatment allows you to delete unhealthy foods, drugs and stimulants from the diet without having withdrawal symptoms and cravings. You can expect to lose weight at the rate of 2 to 3 pounds per week. This is rapid detox and rapid weight-loss. The maximum range, our clients have lost is 3 to 14 pounds in one week, 28 pounds in one month and as much as 42 pounds in 2 months.
If we want to feel better, reverse disease, we have to avoid the processed foods.  These foods are causing depression, anxiety, anger, aggressiveness, lethargia, "brain fog" and eventually the "Popular Big Three" … diabetes, cancer, and heart disease.
Each day, Scientific Researchers identify a new viral strand and create a new name for this disease.  Big Pharma invents a new drug to threat this new disease.
There is only one disease …  the disease of Toxicity. [The China Study, by Dr.s Campbell and Campbell].
Personally, after working with thousands of people with addictions for over 20 years, I know this to be true.  I have witnessed each person detox, change their behavior patterns and food choices to heal their bodies.
Americans are killing themselves by relying on the Pharmaceutical Drugs to keep them alive.  Look around.  You can see it.  A shot, a pill, a drug, a chemical is not going to cure a disease … not even obesity.  One must detox the body and remain drug free.  By choosing foods that are safe and pure, we can nourish the body, build the immune system, create an environment of alkalinity to protect the body against disease.
Chemicals (chemo) and drugs may prolong your diseased life; yet, your body, muscles, organs, cells and tissues are aging rapidly.
Do you have a hereditary risk (best known as "tendency") for any of the following health issues?
Heart Disease
Diabetes
High Cholesterol
High Blood Pressure
Obesity
We can teach you a diet to either avoid or reverse these maladies.  For the past 20 years of our treatment program, we have followed and taught a food program similar to Dr. Dean Ornish's Program for Reversing Heart Disease.  We have observed people changing their diet and lifestyle to reverse these health problems. If you want to reverse or prevent these health problems, we will help you change your diet to accomplish your health goals.
Dr. Dean Ornish is a physician, and president and founder of the nonprofit Preventive Medicine Research Institute, as well as Clinical Professor of Medicine at the University of California, San Francisco. Dr. Ornish is the author of six best-selling books, including his most recent, The Spectrum. His research proved, for the first time, that lifestyle changes can halt and even reverse heart disease and prostate cancer.  He believes that our need for community and connection is primal. For more information about Dr. Ornish visit http://www.ornish.com .
https://www.youtube.com/watch?v=s1JF9ylY_AM&list=PL3F65911B7B565A43&feature=player_detailpage
Dr. Dean Ornish believes in a diet rich in plant foods, pure and unadulterated.  By consuming these foods, millions of people have reversed many maladies … even with diagnoses and predictions of termination of life.  Diseases such as obesity, heart disease, diabetes,  and many blood and food related illnesses have been reversed or annihilated.
End Your Need For Certain Medications
As we start the detox process, we teach you how to detox your body on a daily basis. Your cholesterol, triglyceride, blood pressure and weight numbers begin decreasing, immediately. Anywhere from 3 weeks to 2 months, your medical doctor will begin paying attention to your new lifestyle changes and suggest that you may begin coming off of certain medications.
The food addiction program consists of 5 visits scheduled 1 week apart. Each session is educational, informative and supportive. We believe it takes 21 days to break old habits and make new habits. After four weeks of practicing the new, healthy habits and patterns of eating, the client continues to reach their health and weight loss goal.
Most patients remark after the first week, "This was really easy. I didn't feel hungry, deprived, or irritable. The program is so natural that I don't feel like I have to sacrifice anything".
"How can I get away from all
these drugs?"
In Europe, patients dealing with maladies such as high blood pressure, cholesterol, diabetes and other food related illnesses are given a one month prescription and are told, "Go home and get your numbers back in control with diet and exercise !"   They are encouraged to change the lifestyle issue that is causing the problem.
In America, many people are placed on medications and told they will be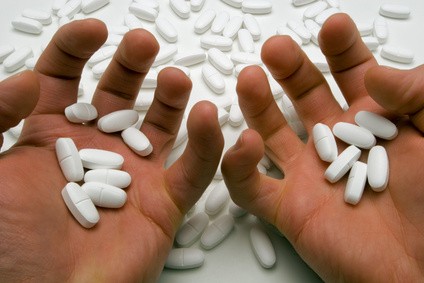 on the medications for the rest of their lives!  Diet, nutrition and exercise are never mentioned.  Medical professionals prescribe the drugs to patients  to prevent strokes, heart attacks and death.  Medical professionals know that most people are not willing to make the necessary dietary changes to reverse these illnesses.  When your medical professional puts you on these drugs, she or he is saving your life.  However, by putting you on these drugs long term, they are giving you less incentive to actually amend the habits that caused the issues in the first place.
Obesity, diabetes, cancer, chronic fatigue, depression, anxiety, etc. are on the rise in America.  Many people are becoming disabled and are experiencing early death from these illnesses.
While no one can promise us how long we will live, EVERYONE has the opportunity to take responsibility for and improve their health while we are in existence.
As you start the detox process at the STOP Clinic, we teach you how to detox your body on a daily basis. Your cholesterol, triglycerides, blood pressure and weight begin decreasing immediately. Anywhere from 3 weeks to 2 months, your medical doctor will begin paying attention to your new lifestyle changes and most likely suggest that you can begin coming off some of your medications.  This decision by your doctor is one of the first steps in helping you with your alcohol or prescription drug addiction.
Boost Metabolism
We teach you how to eat foods that are healing and boost the metabolism, naturally. Your body feels satisfied and you won't feel like you are sacrificing or starving yourself. You feel content as your pounds fall off, naturally. There is no need to yo-yo when the body feels satisfied.
Comments we receive from our current and former clients are encouraging: "My weight is changing and a lot of my former health problems are disappearing". The patient usually sees a significant difference in their weight, body functions and energy level in just a few days.
Improve Your Health
Clients quickly notice problems with ailments such as indigestion, acid reflux, irritable bowel syndrome, diverticulitis, diarrhea, constipation, arrhythmia, body aches, headaches, and impotency disappearing!
Many clients notice diseases such as chronic fatigue syndrome, fibromyalgia, diabetes, migraines, chronic arthritis and many other health problems, disappear or remarkably improve.
Build a Strong Immune System and Prevent Illness
Are you interested in a diet that can boost your immune system, prevent cancer, reverse heart and many other food related diseases ? We will teach you how.
Weight-loss is a benefit of detoxing the body and eating foods that are energizing, rather than "poisonous". Many people "inherit" their parent's illnesses by "inheriting" their parent's diet. Over a period of decades this repeated diet causes repeated illnesses and diseases.
Many of the food related illnesses are sugar related … or habitually choosing foods that convert to sugar. The body becomes addicted to these sugary foods and begins shutting down after a few decades.  The person feels weak and sickly, asks their medical professional for medications and over time, becomes heavily dependent on large doses of medications.
In America, many children choose their own food at an early age. A poor diet causes irritability, lethargy, obesity and depression. A few blood related illnesses resulting from poor diets are:
Obesity
Diabetes
High Blood Pressure
High Cholesterol
Strokes
Lupus
Heart Attacks
Fibromyalgia
Chronic Fatigue Syndrome
Hypoglycemia
Hypothyroidism
and many more…
The quick, easy ("band aid") answer is medication … it becomes a substitute for proper nutrition … outcome: the addiction.
Our electrical stimulation treatment blocks the cravings for sugar and other drugs, resets your appetite control signal, helps the body detox faster, thus, increases the body's metabolism and weight-loss/health goals.

We will teach you how to choose foods and control portions to help you lose the weight faster to help you reach your goals. Within 2 or 3 days, you will begin to lose weight and feel the energy from your new way of eating. Before 3 weeks, your blood composition begins to change.
We will tailor the program to fit your needs. It is your program, designed to support you for the rest of your life to achieve a healthy, happy, disease-free life !
Why do people gain weight when they stop smoking?
When a person stops the drug nicotine, the body becomes so relaxed that the metabolism slows down. At this point, if the person has poor eating patterns or habits, this is the formula for rapid weight gain to the "tune" of 20, 30, 50+ pounds!
During our smoking cessation program, we teach methods and combine tools to prevent weight gain. Often clients lose 3 to 6 pounds during their first week of smoking cessation (if they are already overweight).
For the past 20 years, our program has specialized in helping people stop smoking (as well as other drugs) and lose weight at the same time. When you call, I will ask you some questions and decide how fast I think we can help you drop those unwanted pounds. If I feel we can help you, I will commit to you and we can get started right away.
Some clients, who are already morbidly obese, combine our smoking cessation and weight loss programs. The most weight-loss witnessed is 28 pounds in one month and 42 pounds in 2 months. This is based on our "aggressive"  formula for rapid drug detox.
Our theory is: If you detox the body rapidly and start feeling better right away, you are immediately rewarded with more energy and are more likely to adopt this pattern of eating as a lifestyle change.
You will learn which foods cause your weight-loss to speed up, slow down, or which foods make your weight go up, quickly and effortlessly. You will also learn which foods to avoid in order to ward off disease and food related illnesses.
If you have a food related illness, after changing your patterns, you will begin feeling better during the first week. The treatments are energizing. You will learn that many illnesses are food related. Once you begin detoxing, your life begins to change !
If you are an emotional eater, we can use some energy work or self hypnosis techniques, to help you combat your old emotions that may keep you in trouble.
You can expect to lose weight at the rate of 2 to 3 pounds per week, or as much as 28 pounds in one month, or 42 pounds in 2 months. This is rapid detox and rapid weight loss.
YOU have the power to take responsibility for your health and WE are here to help you take that lead.
Our Weight Loss Treatment
Our electrical stimulation treatment blocks the cravings for sugar, processed foods and harmful stimulants that often contribute to weight gain. We also stimulate the appetite control signal to make it as strong as it was when you were born, so you will realize when you are full !
Our treatment takes away the agony of food addiction, helps you lose the weight, keep it off and avoid unwanted pounds and food related illnesses in the future!
While losing your weight, you will begin reversing any diseases that may be accruing inside of your body, as well as learning how to prevent diseases in the future. A Disease cannot survive in a healthy environment.
We guarantee to work with you to accomplish your goals of fighting: an addiction, excess weight or chronic pain or illnesses. We have witnessed our clients turning the following health problems around within 1 to 4 weeks, without using medications:
Alcohol
Anxiety
Bladder Control
Blood Pressure
Cholesterol
Chronic Fatigue Syndrome
Constipation
Depression
Erections
Fibromyalgia
Hot Flashes
Irritable Bowel Syndrome
Migraines
Prescription Drug Addiction
Reflux
Sleep
Stop Smoking
Sugar Cravings
Weight Problems
Immediate Results You Can See
Weight-loss
More Energy
Good Change in Bowel Movements
Better and Deeper Sleep
Hot Flashes Disappear
Acid Reflux and Indigestion Disappears
Reduction of Anxiety, Stress & Depression
Aches and Pains Disappear
Headaches Disappear
Better Bladder Control
Incontinence Is Gone
Lower Blood Pressure, Naturally
Lower Cholesterol, Naturally
Other Popular Weight-loss Programs
Gastric bypass surgery has become very popular recently.  Some people do very well with this surgery; some, not so well.  What makes the difference?  Some people change their diets; others do not.  Losing weight is a lifestyle change.  A poor diet, lacking nutrition will cause weight gain in any person.  Changing the diet to a lifetime of eating healthy, nutritious, unadulterated and contamination free food not only results in weight loss but also reversing diseases such as obesity and other blood related disorders.
Clients considering weight loss surgery are required to go through counseling, change their diet and lose a certain amount of weight to prove they are good candidates for the surgery.  If the counseling prior to the weight-loss surgery included a diet change to a pure food diet, the client would automatically lose weight, and felt better immediately.  Why would the client still need the surgery?
With the weight-loss surgery, many patients put the weight back on after a year!  These unfortunate souls are usually the patients who did not change their diet.  Instead of eating the pure foods, the patient is now eating less of the bad foods.  Anyone morbidly obese person would initially lose weight eating very small portions of food … good or bad.
Diet pills, amphetamines, diet drugs such as adarol are not safe for consumption.  Starving one's self to be skinny is extremely hard for the heart and other organs and can lead to sudden death.
Did you know … ?
You can actually feel ages younger than you are !
With our programs, most changes begin during the first week. It takes two weeks to see and notice the larger changes. The first recognizable change, is an increased amount of energy!
Did you know that most aches, pains, illnesses can be avoided by changing the diet?  We have witnessed this healing process many times over the past two decades.    We can help you lose your aches and many illnesses in an alternative way … i.e.,  without drugs.
We offer you treatments AND teach you how to avoid your pain and illnesses in a natural way … without the use of drugs.
Learn how to easily take responsibility for your own health and wellness. Feel good with more energy and enjoy a real excitement for Life !!!
Call Today for an Appointment
919-467-5966