Charlie's Lentil and Sweet Potato Stew
Charlie's Lentil and Sweet Potato stew is a hearty, nutritious meal that is sure to warm you up during the cold days of winter!  Lentils are one of the most nutritious beans around, and sweet potatoes are high in fiber and extremely heart healthy, among numerous other benefits.  I would like to give a big, warm "Thank you!" to Charlie Kincaid of Cary, NC for providing me with this wonderful recipe!
Ingredients
2 cups of dry (uncooked) Lentils
1 link of Smoked Turkey Sausage
1 medium Onion
1 grated Garlic Clove (Size and Amount are personal preference)
4 cups of Chicken Broth
1 cup of chopped Stewed Tomatoes
1 medium Carrot
1 cup of fresh Spinach (chopped)
1 medium Sweet Potato
1 Tbs. Worcestershire Sauce
1/4 tsp. Oregano
1/4 tsp. Black Pepper
1/8 tsp. Cumin
1 Bay Leaf
Cooking Instructions
Saute onions, garlic, and sausage, until the sausage is brown.
Stir in all other ingredients, except the fresh spinach.
Bring mixture to a boil, then reduce heat and simmer for 20 minutes.
Add Spinach for the last 5 minutes.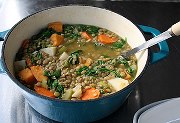 Enjoy this savory and delicious winter time treat.  The mixture of the flavors are simply delicious!
Charlie Kincaid
Cary, NC