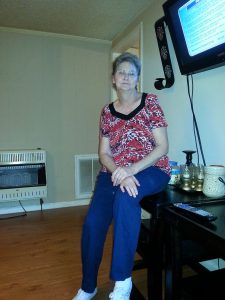 I came to The STOP Clinic to stop smoking and got more than I paid for!
I was waiting to share this information with you… just in case… I was probably just a little bit of a Doubting Thomas [smiling].
I had back problems for a lot years. My back would get really sore and start trying to "grab" and finally "go out," leaving me with excruciating pain with weeks of lying around. It was too painful to even get up and go to the bathroom!
During the work week, my husband would leave work, come home during the day to help me eat and go to the bathroom. It would only take the slightest wrong movement to throw my back completely out!
During my last visit with you, I told you my back had been hurting that week and was trying to "go out." You asked, "Do you want me to give you a treatment for your back pain and add some magnetic technology to your back?"
When I left your office that day I was thinking, "My back is not hurting!!!" However, being a bit of a "Doubting Thomas" that I am, I thought, " I wonder how long it will be before it starts hurting again… I hope it doesn't start again." I went on the rest of day and the next few days and there was still no pain!!! I told my husband that my back pain was gone and how amazing this was to me!
It has been 37 days with no pain or without trying to "grab." I have to tell you that the treatment and the magnets worked!!!!! I am not really a doubting Thomas, I just wanted to be sure before I said anything [really big smile here]. Thanks so much!!!
It seems wonderful to be pain free and the ability to enjoy family and friends like I used to. My husband said, "I have not seen you this happy in a very long time!"
My nicotine addiction is gone; my back pain is gone and other things are definitely improving. My joints are not swelling as much; legs and muscle pain is much less. I am still working on the dietary changes that you suggested for me.
I am no longer a "Doubting Thomas." I know that when I do make the changes you suggested, I will be completely pain free. I do not want the old pain to return!
Sylvia Bird
Garner, NC
Referred by: Dr. Charles Mann, ENT