Superfood Smoothie with Greens
This Superfood Smoothie with greens allows me to maximize the number of "raw" servings I consume per day. The "aliveness" of the food gives me energy!
Add Green Veggies to fill half the blender (my Ninja is very large): (examples)
Blend green ingredients with 1 to 2 cups of filtered water.
Add Fruit and other ingredients to fill half the blender : (my favorites)
Banana
Apple
Strawberries
Blueberries
Any frozen fruit
Superfood Powder, 2 Tablespoons  *  (contains Spirulina)
Ground, Organic Flax seeds, Chia or Hemp seeds
Optional ingredients:
Bell Peppers
Broccoli
Asparagus
Carrots
Squash
Kiwi (clean skin and all)
Almonds
Honey
Ice
Adding an extra cup of water turns the smoothie into a fruit "drink" rather than a smoothie.
Some people add ice.
For many years, I made this blended fruit drink with only fruit and Superfood Powder.  Last year, I thought it would be a good idea to put more calcium and protein into my diet, so I added the green, leafy veggies!  Then I began adding all types of veggies to add more raw food to my diet.
Our digestive system benefits from the enzymes in raw fruits and veggies.
Cooking, smoking, and caffeine destroys many of the vitamins and nutrients in our food.
* I added the Superfood Powder over the past 10 years ago, as a measure to prevent disease and illness.  The raw foods and sea veggies give me energy, a better immune system and improved eye site.  "An ounce of prevention is worth a pound of cure". Good motto …
This Superfood Smoothie Drink has become very popular with many of our clients.  Enjoy!
Leslie Lyon
Cary, NC
For your convenience, you may call ReNuz to order the Superfood Powder.  702.204.9619
If you purchase the Superfood Powder from GNC or other places, choose the ones without the added sweeteners.
Oven "Fried" Kale "Chips"
Oven "Fried" Potatoes
Oven "Fried" Sweet Potatoes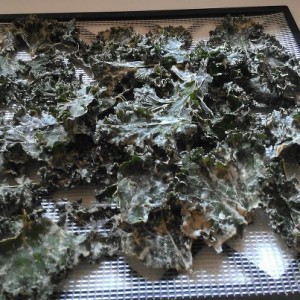 Hungry for fries?
Slice potatoes or Kale into long thin pieces.
Drizzle with a little virgin olive oil, Himalayan sea salt and pepper.
Pop them in the oven to crisp to perfection—irresistible!
Taken from: EatingWell Magazine
——————————————————————————–
READER'S COMMENT: "These fries were delicious. I left the skin on so one side was deliciously crispy but the other side was still somewhat soft. "
2 g fat (0 g sat, 2 g mono); 0 mg cholesterol; 27 g carbohydrates; 3 g protein; 4 g fiber; 94 mg sodium; 576 mg potassium.
Nutrition Bonus:
6 servings
Active Time: 15 minutes
Total Time: 45 minutes
Ingredients
1 pound all-purpose potatoes (2-4 medium), scrubbed
1 pound sweet potatoes, (about 2 small), scrubbed
1 bag of Kale
1 tablespoon extra-virgin olive oil
1/4 teaspoon paprika
Salt and freshly ground pepper, to taste
Preparation:
Position rack in upper third of oven; preheat to 450°F.
Coat a baking sheet with cooking spray.
Cut each potato lengthwise into 8 wedges.
Cut sweet potatoes into wedges about the same size.
Place potatoes and sweet potatoes in a large bowl and toss with oil, paprika, salt and pepper.
(Kale: drizzle olive oil over the leaves then lightly salt and pepper.)
Spread the potatoes or kale on the prepared baking sheet and roast for 20 minutes.
(Depending on your oven, only cook Kale 15 to 20 minutes … cooking longer will char it.)
Loosen and turn potatoes; roast until golden brown, 10 to 15 minutes longer. Serve immediately.
Nutrition
Per serving: 138 calories Vitamin A (71 percent daily value), Vitamin C (42 percent dv), Fiber and Potassium (16 percent dv).
EatingWell Magazine
Green Juice
Really fresh, green, salad type of juice … very good as a morning drink.
Nutrition Benefits:
Kale is known as a powerful antioxidant / anti-inflammatory plant,
very high in vitamin K, Vitamin C and rich in calcium.
Apples may reduce the risk of colon cancer, prostate cancer and lung cancer.
Ingredients:
3 Romaine leafs
5 Celery ribs
1 Cucumber
3 Kale leafs
5 Parsley ribs
2 Granny Smith Apples
5 Spinach leafs
1 oz Lemon juice
Juice all ingredients and enjoy. The quicker you can drink it the better. I normally double or triple the recipe and have several juices a day.
Sondra
Wake Forest, NC
Pineapple – Apple – Mint Drink
My favorite juices are pineapple and apple juice. The mint makes a perfect combination.
You can play around with the ratio for different results (apples/pineapples).
Note: to prepare the pineapple, lay it on its side in the refrigerator for half an hour before you cut it.
This allows the juices from the bottom of the pineapple to spread throughout,
giving you a much more flavorful juice.
Nutrition benefits:
Pineapples are rich with enzyme and protein and known to reduce risk in kidney or liver disease.
Ingredients:
1/3 Pineapple
2 granny smith Apples
4 tbsp Mint (finely chopped)
1 oz Lime juice
Sondra
Wake Forest, NC
Chuck's Guacamole Dip
Ingredients:
3 med ripe Avocados (feels soft to the touch)
2 large Tomatoes
1 large Onion
2 tbs. Picante Very Hot Mexican Sauce
A few shakes of Pepper
A few shakes of Salt
Mince the onions.
Mince the tomatoes.
Mash the avocados.
Add Picante Sauce, salt and pepper.
Mix together and enjoy this delicious, healthy
and energizing dish on some whole wheat crackers or corn chips.
Chuck Graham
Lexington, NC
Texas Caviar
Ingredients:
½ Pound of Black Eyed Peas – soaked 12 hours, rinsed and drained **
½ Cup of Italian Salad Dressing
2 Tomatoes, diced
½ Cup of Bell Peppers (any color), diced
½ Cup of Diced Sweet Onions
2 or 3 Jalapeño Peppers, minced (optional for me 🙂
2 Garlic Cloves, minced
Tortilla Chips (or Tortilla Scoops)
Cook Black Eyed Peas until tender; drain excess liquid.
Combine all ingredients, (except for chips), and mix well.
Refrigerate until chilled.
Serve with chips .
Here is hoping you enjoy this tasty treat to share!
Leslie Lyon
Cary, NC
** Are you aware that soaking the beans allows the bean to release enzymes, which help you digest your food better ? When we age, our body produces less enzymes. Some people take enzyme supplements before every meal to aid in the digestion of their food and help the body absorb nutrients more efficiently.
Broccoli / Cauliflower Salad
Ingredients:
6 c broccoli
3 c cauliflower
1/2 c raisins
1/3 c walnut pieces
1/4 c Olive oil
1/4 c Apple cider vinegar
1/2 tsp basil
1/2 tsp pepper
In saucepan bring 2 inches water to boiling.
Add broccoli, return to boiling.
Cook, covered, for 2 minutes, drain,
rinse with cold water, drain.
Do same for cauliflower.
In 2 or 2 1/2 quart bowl, layer broccoli,
cauliflower, raisins and walnuts.
Cover/chill.
In screw top jar combine olive oil,
vinegar, basil, pepper. Shake well.
Add dressing just before serving.
2/3 cup serving 128 cal. 1 g. sat. fat.
Leslie Lyon
Cary, NC
Charlie's Lentil and Sweet Potato Stew
Ingredients:
2 cups of dry (uncooked) Lentils
1 link of Smoked Turkey Sausage
1 medium Onion
1 grated Garlic Clove (Size and Amount are personal preference)
4 cups of Chicken Broth
1 cup of chopped Stewed Tomatoes
1 medium Carrot
1 cup of fresh Spinach (chopped)
1 medium Sweet Potato
1 Tbs. Worcestershire Sauce
1/4 tsp. Oregano
1/4 tsp. Black Pepper
1/8 tsp. Cumin
1 Bay Leaf
Saute onions, garlic, and sausage, until the sausage is brown.
Stir in all other ingredients, except the fresh spinach.
Bring mixture to a boil, then reduce heat and simmer for 20 minutes.
Add Spinach for the last 5 minutes.
Enjoy this savory and delicious winter time treat. The mixture of the flavors are simply delicious!
Charlie Kincaid
Cary, NC
Corn and Ginger Soup
Ingredients:
1 Tbsp vegetable oil
1/2 cup finely chopped scallions
1 Tbsp finely sliced ginger
2 cups corn kernels (frozen or cut fresh from corn cobs)
1 24 ounce chicken stock
1 Tbsp Shao hsing wine (optional)
1/2 Tsp white pepper
1 Tsp sugar
1 Tsp salt
2 Tbsp soy sauce
2 Tbsp chopped cilantro
1 tsp sesame oil
Cooking:
Heat oil and saute scallions and ginger for one minute.
Add corn and continue stirring another minute.
Pour in chicken stock and bring to a boil.
Add wine, pepper, sugar, salt, and soy sauce and simmer for 5 minutes.
To serve, add a few drops of sesame oil and pinch of cilantro to each
serving bowl.
Michelle Hearne,
Raleigh, NC
Fresh Flounder
The fresher the flounder the better the dish 🙂
Mix equal parts extra virgin olive oil and butter to generously cover the bottom of the pan.
Heat on medium heat.
Sauté Flounder for 3 minutes on the first side.
While the Flounder is cooking, thinly slice a shallot.
After the flounder cooks for 3 minutes,
add the shallot to the pan and turn the flounder.
Sauté for an additional 3 minutes.
The fisherman that shared this recipe with me said that after eating this I might not want to eat anything else. He just might be right. If you can get fresh, local flounder, this dish is hard to beat.
Sondra
Wake Forest, NC
German – High Protein Banana Cake
A banana has three kinds of natural sugar: sucrose, fructose, and glucose. It also has an abundant amount of fiber. The amount of sugar in a banana gives instant energy to your body. Researches show that two bananas can supply you enough energy to work out for 90 minutes.
Other than sugar, it also contains some vitamins and minerals such as vitamin B6, vitamin C, potassium, magnesium, phosphor, and manganese. Those minerals are the minerals you commonly get in a sport drink. It also helps to treat some medical disorders.
A banana can prevent depression. According to some surveys done to some people with depression, they feel better after eating a banana. It contains tryptophan, an essential amino acid your body uses to synthesize serotonin. Serotonin is a hormone that makes you feel relaxed. It is a hormone thought to produce better sleep and mood.
Banana contains a high amount of iron. People who suffer from anemia can make banana part of their daily meals to stimulate hemoglobin production in their bodies. Lack of hemoglobin is one of the most common causes of anemia.
The high amount of potassium in a banana makes it a natural remedy for hypertension. US Food and Drug Administration allows the industries that produce food products from banana to officially claim a banana as a natural remedy to treat high blood pressure. Potassium is also beneficial for preventing stroke.
The high amount of fibers in a banana can help prevent constipation. Lack of fibers is the most common cause of constipation. Consuming more fibers can help improve your digestive health and eliminate some digestive problems.  There are more health benefits you can get from a banana.
Here is a recipe you can try to enhance its natural flavor. (For three servings)
Ingredients:
– 35 grams of instant oatmeal
– 50 grams of whey protein, vanilla flavor
– 1 egg white
– 25 mL of water
– 100 grams of banana
– One tablespoon of palm oil
How to make it:
– Mix whey protein powder and oatmeal. Leave it aside.
– Put egg white, banana, water, whey powder, and palm oil into the blender.
– Blend them together until smooth.
– Prepare a medium size mold for brownies (15 x 10 cm).
– Grease it with palm oil.
– Pour the mixture into it.
– Bake it at 180-200 degree Celcius for 30 minutes.
– Ready to serve.
Nutrition Facts per serving
– Energy: 170 calories
– Fat: 4.7 grams
– Carbohydrate: 14.8 grams
– Fibers: 2 grams
– Protein: 17 grams
Recipe by: Tanja Fisher
United Kingdom
"blog contributor"
Middle Eastern Lamb Stew
This brothy stew is boldly flavored with a blend of characteristic Middle Eastern spices and finished with fresh spinach and fiber-rich chickpeas. Economical lamb shoulder tenderizes beautifully when leisurely cooked in a slow cooker. If you can't find boneless shoulder stew meat, do not substitute more-expensive lamb leg—it tends to dry out during slow cooking. Instead, purchase lamb shoulder chops and de-bone them. Serve over Bulgar or Quinoa and accompany with a salad.
EatingWell Magazine
8 servings, about 1 cup each
Active Time: 40 minutes
Total Time: 4 1/4-6 3/4 hours
Ingredients:
1 1/2 pounds boneless lamb stew meat, (shoulder cut) or
2 1/2 pounds lamb shoulder chops, de-boned, trimmed and cut into 1-inch chunks
1 tablespoon olive oil
4 teaspoons ground cumin
1 tablespoon ground coriander
1/4 teaspoon cayenne pepper
1/4 teaspoon sea salt
Freshly ground pepper, to taste
1 large or 2 medium sweet onions, chopped
1 28-ounce can diced tomatoes
3/4 cup reduced-sodium chicken broth
4 cloves garlic, minced
1 15- or 19-ounce can chickpeas, rinsed
(I prefer soaking the dried chickpeas, rather than canned 🙂
6 ounces baby spinach
Preparation:
Place lamb in a 4-quart or larger slow cooker.
Mix oil, cumin, coriander, cayenne, salt and pepper in a small bowl.
Coat the lamb with the spice paste and toss to coat well.
Top with onion.
Bring tomatoes, broth and garlic to a simmer in a medium saucepan over medium-high heat.
Pour over the lamb and onion.
Cover and cook until the lamb is very tender, 3 to 3 1/2 hours on high or 5 1/2 to 6 hours on low.
Skim or blot any visible fat from the surface of the stew.
Mash 1/2 cup chickpeas with a fork in a small bowl.
Stir the mashed and whole chickpeas into the stew, along with spinach.
Cover and cook on high until the spinach is wilted, about 5 minutes.
Make Ahead Tip: Prepare the stew, omitting the spinach, cover and refrigerate for up to 2 days or freeze for up to 4 months. Add spinach after the stew is reheated. | Prep ahead: Trim lamb and coat with spice mixture. Chop onions. Combine broth, tomatoes and garlic. Refrigerate in separate covered containers for up to 1 day.
Nutrition:
Per serving: 319 calories; 15 g fat (5 g sat, 6 g mono); 92 mg cholesterol; 15 g carbohydrates; 30 g protein; 5 g fiber; 494 mg sodium; 238 mg potassium.
Nutrition Bonus: Vitamin C (30 percent daily value), Vitamin A (25 percent dv), Iron (20 percent dv).
EatingWell Magazine
Squash, Chickpea and Red Lentil Stew
Modeled on North African stews, this aromatic vegetarian main course can be served over brown rice, Quinoa or steamed spinach.
EatingWell Magazine
8 servings
Active Time: 30 minutes
Total Time: 8 hours (including the 1-hour quick-soak for chickpeas)
Ingredients
3/4 cup dried chickpeas
2 1/2 pounds butternut squash, seeded and cut into 1-inch cubes
2 large carrots, peeled and cut into 1/2-inch pieces
1 large sweet onion, chopped
1 cup red lentils
4 cups vegetable broth
2 tablespoons tomato paste
1 tablespoon minced peeled fresh ginger
1 1/2 teaspoons ground cumin
1 teaspoon sea salt
1/4 teaspoon saffron (See note)
1/4 teaspoon freshly ground pepper
1/4 cup lime juice
1/2 cup chopped roasted unsalted peanuts
1/4 cup packed fresh cilantro leaves, chopped
Preparation:
Soak chickpeas in enough cold water to cover them by 2 inches for 6 hours or overnight.
(Alternatively, use the quick-soak method: Place beans in a large pot with enough water to cover by 2 inches. Bring to a boil over high heat. Remove from heat and let stand for 1 hour.)
Drain when ready to use.
Combine the soaked chickpeas, squash, carrots, onion, lentils, broth, tomato paste, ginger, cumin, salt, saffron and pepper in a 6-quart slow cooker.
Put on the lid and cook on low until the chickpeas are tender and the lentils have begun to break down, 5 to 6 1/2 hours.
Stir in lime juice.
Serve sprinkled with peanuts and cilantro.
(Note) Considered the world's most expensive spice, saffron contributes a pungent flavor and intense yellow color. It is sold in threads and powdered form.
Nutrition
Per serving: 294 calories; 7 g fat (1 g sat, 3 g mono); 0 mg cholesterol; 48 g carbohydrates; 14 g protein; 11 g fiber; 578 mg sodium; 1029 mg potassium.
Nutrition Bonus: Vitamin A (310 percent daily value), Vitamin C (50 percent dv), Folate (30 percent dv), Potassium (27 percent dv).
EatingWell Magazine
Sweet Potato Smoothie Recipe
Bake 1 large sweet potato and let it cool.
In a 72 oz Blender, add all ingredients (add all veggies, first).
Add:
5 leaves of Red or Boston living lettuce
1 broccoli bunch and stem
1/2 cup of alfalfa sprouts
1 cup of water
1 cup of Greek yogurt- plain
4 small bananas or 3 medium sized
1 sweet potato (cooked and cooled)
12 raw almonds
1 sprinkle of cinnamon
1 sprinkle of nutmeg
1/2 cup of ice.
Blend and enjoy!
Lynn Carter,
Raleigh, NC
Southern Kale
From EatingWell Magazine
Kale becomes melt-in-your-mouth tender in this recipe. Assertive garlic and salty country ham stand up to kale's bold flavor. (See Leslie's notes below)*
4 servings
Active Time: 50 minutes
Total Time: 50 minutes
Ingredients
2 teaspoons extra-virgin olive oil
2 teaspoons minced garlic
2 ounces country ham, (see Note), pancetta or prosciutto, diced (about 1/2 cup)
15 cups stemmed, torn and rinsed kale, (1-2 bunches)
2 cups water
1/4 teaspoon crushed red pepper
Preparation
Heat oil in a large high-sided skillet over medium-high heat. Add garlic, stir, and immediately add ham (or pancetta or prosciutto). Add kale by the handful, stirring to make room for more leaves. When all the kale has been added, add water and crushed red pepper; stir to combine. Bring to a simmer, cover and cook, stirring occasionally, for 15 minutes. Uncover and continue to simmer, stirring occasionally, until most of the water has evaporated and the kale is tender, 10 to 15 minutes more. Serve warm.
Tips and Notes
Note: Dry, salt-cured and aged between 90 and 180 days, country ham is potent, salty and delicious; a little goes a long way.
*(Leslie's notes : If you are watching your fat grams, this recipe is delicious with coconut oil or extra virgin olive oil, without the ham or cheese ! I always add a sweet onion for flavoring when I cook green leafy vegetables !
Nutrition
Per serving: 93 calories; 4 g fat (1 g sat, 2 g mono); 10 mg cholesterol; 8 g carbohydrates; 6 g protein; 3 g fiber; 412 mg sodium; 371 mg potassium.
Nutrition Bonus: Vitamin A (360 percent daily value), Vitamin C (90 percent dv)
EatingWell Magazine
Baked Beets and Steamed Beet Greens
BEET LOVERS –TRY baking fresh beets and you will never want another water logged one again!
Wash Fresh beets and remove greens – set greens aside for steaming later.
(I usually cook 3 at a time but you can cook as many as you like – HT Heirloom are the best!)
Place beets in foil lined baking dish and drizzle with a small amount of olive oil.
Seal top of dish with a second sheet of foil.
Bake 350 degrees – 1 hour
Allow beets to cool and simply peel the outer skin off the beet and toss……
To cook the beet greens:
Place them back into the beet baking pan (no foil cover).
Sprinkle a small amount of water and bake at 425 degree for about 5-8 minutes until the greens wilt and turn dark green. These, too, are fabulous steamed!
If you have leftovers, toss them into your morning smoothie with a tomato for a yummy veggie smoothie.
Diane Bruce,
Clayton, NC
Flemish Beef Stew
For this slow-cooker interpretation of Carbonnades Flamandes, a Flemish stew made with beer, if you can't find a brown ale, use a strong, dark beer (but not a stout).
EatingWell Magazine
8 servings
Active Time: 45 minutes
Total Time: 8 3/4 hours
Ingredients:
4 teaspoons olive oil, divided
2 pounds bottom round, trimmed of fat and cut into 1-inch cubes
3/4 pound sliced white button mushrooms
3 tablespoons all-purpose flour
2 cups brown ale, or dark beer
4 large carrots, peeled and cut into 1-inch pieces
1 large onion, chopped
1 clove garlic, minced
1 1/2 tablespoons Dijon mustard
1 teaspoon caraway seeds
3/4 teaspoon sea salt
1/2 teaspoon freshly ground pepper
1 bay leaf
Preparation:
Heat 2 teaspoons oil in a large skillet over medium heat.
Add half the beef and brown on all sides, turning frequently, about 5 minutes.
Transfer to a 6-quart slow cooker.
Drain any fat from the pan.
Add the remaining 2 teaspoons oil and brown the remaining beef.
Transfer to the slow cooker.
Return the skillet to medium heat, add mushrooms and cook, stirring often, until they give off their liquid and it evaporates to a glaze, 5 to 7 minutes.
Sprinkle flour over the mushrooms; cook undisturbed for 10 seconds, then stir and cook for 30 seconds more. Pour in ale (or beer); bring to a boil, whisking constantly to reduce foaming, until thickened and bubbling, about 3 minutes.
Transfer the mushroom mixture to the slow cooker.
Add carrots, onion, garlic, mustard, caraway seeds, salt, pepper and bay leaf to the slow cooker.
Stir to combine.
Put the lid on and cook on low until the beef is very tender, about 8 hours. Discard the bay leaf before serving.
Nutrition:
Per serving: 272 calories; 9 g fat (3 g sat, 4 g mono); 72 mg cholesterol; 17 g carbohydrates; 27 g protein; 2 g fiber; 359 mg sodium; 609 mg potassium.
Nutrition Bonus: Vitamin A (110 percent daily value), Zinc (33 percent dv), Potassium (17 percent dv), Iron (39 percent dv).
EatingWell Magazine
Hamburger Buddy
Hamburger Buddy ~~~ A good kid recipe !!!
Very finely chopping onion, mushrooms and carrots in the food processor is not only fast—it makes the vegetables hard to detect for picky eaters. They also form the base for the sauce of this ground beef skillet supper. Make it a meal: Serve with a green salad.
(Leslie's note: The point of using the blender to blend the veggies is to disguise them … guess you already figured that one out ! )
EatingWell Magazine
6 servings, about 1 1/3 cups each
Active Time: 40 minutes
Total Time: 40 minutes
Ingredients:
3 cloves garlic, crushed and peeled
2 medium carrots, cut into 2-inch pieces
10 ounces white mushrooms, large ones cut in half
1 large onion, cut into 2-inch pieces
1 pound 90 percent -lean ground beef
2 teaspoons dried thyme (or oregano)
3/4 teaspoon sea salt
1/4 teaspoon freshly ground pepper
2 cups water
1 14-ounce can reduced-sodium beef broth, divided
8 ounces whole-wheat elbow noodles, (2 cups)
2 tablespoons Worcestershire sauce
Preparation:
Fit a food processor (or a Ninja Blender 🙂 with the steel blade attachment.
Add garlic, carrots, mushrooms onions, or anything you want to disguise and process until they are finely minced.
Cook beef in a large skillet over medium-high heat, breaking it up with a wooden spoon, until no longer pink, 3 to 5 minutes.
Stir in the minced vegetables, thyme, salt and pepper and cook, stirring often, until the vegetables start to soften and the mushrooms release their juices, 5 to 7 minutes.
In a separate pan, stir in water, 1 1/2 cups broth, noodles and Worcestershire sauce; bring to a boil.
Cover, reduce heat to medium and cook, stirring occasionally, until the pasta is tender, 8 to 10 minutes.
Nutrition
Per serving: 326 calories; 10 g fat (4 g sat, 3 g mono); 54 mg cholesterol; 38 g carbohydrates; 23 g protein; 4 g fiber; 431 mg sodium; 644 mg potassium.
Nutrition Bonus: Vitamin A (70 percent daily value), Zinc (33 percent dv), Iron (20 percent dv), Potassium (18 percent dv).
PS: This recipe has been slightly modified by Leslie Lyon to make it "kid" simple 🙂
EatingWell Magazine