Boosting your Immunity with Thai soups, like Tom Kai Gha, can help save you from the flu shot needle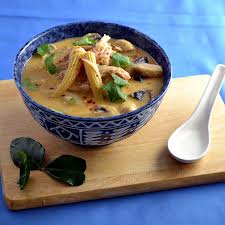 By Erin Dotsey
Most folks who go off to college "experiment" with such seedy things as drugs, sex, rock-and-roll, etc… However, my experimentation leaned more on the culinary side… College is when I began experimenting with food!
I grew up with a mother who had a very limited palette.  Therefore I, and my three siblings, also had very limited palettes (READ: we were very, very picky).  To this day, I still have an irrational fear of ketchup, but I digress…
My junior year in college, a bohemian girl named Katie moved in with me.  Katie is from Boone, NC, and a bit of a hippy – but she will eat anything!  She opened my eyes to so many gastronomic wonders, like fresh fruit and (gag!) vegetables.  One day, she was even able to talk me into trying sushi!!
The day that my life changed, however, occurred right after we had completed our finals the last semester of our senior year.  Katie's mom and sister came to celebrate graduation with us, and they took us out to eat at Indochene – a well-renowned Thai food restaurant in Wilmington, NC, where we attended college.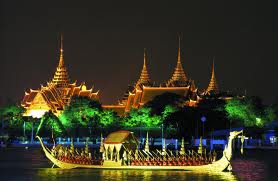 Well, I had never been to a Thai restaurant before, and not only was I petrified, but I was also over-whelmed at the menu's vast selection.  That day, Katie's mom ordered an appetizer sampler, filled with food stuffs I had never heard of.  I wanted to ask what each one was and what all ingredients were inside… But then I stopped myself, and I thought, "You know what?  Why does it matter?  If I try it and I like it, then who cares??  Why scare myself into not enjoying it?"  So, I decided to say "Yes" to everything on that platter… And guess how much food I didn't enjoy?  NONE.  I liked every tasty morsel I put into my mouth… It was amazing!!
To this day, I crave Thai food… Thai soups, Thai noodles, Thai spring roles, etc… and to this day, I try just about anything.  I know I dislike olives, and the taste of celery, if too strong, is a major turn-off, but I'll pretty much eat anything!
In fact, I eat so MUCH Thai food now… (I live less than a mile from Thai Aroma in Ellicott City, MD, and it is AMAZING!!), that I decided to experiment with making my own Thai soup one day, in the form of Lemongrass-coconut soup (Tom Kha).
I caught a cold from a co-worker, and my body was craving Thai soup.  As I was researching recipes, it came up that "A recent joint study by Thailand's Kasetsart University and Japan's Kyoto and Kinki Universities found that the ingredients in Tom Yum Gung soup are 100 times more effective in inhibiting cancerous tumor growth than other foods."  "Tom" soups, and Pho (a Thai beef stock soup) have traditionally been used as our chicken noodle soup, but with even more immunity boosting ingredients!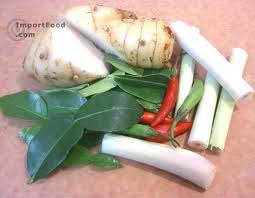 Now is the time to start preparing your immune system for the Winter.  Instead of flu shots, try consuming 1 bowl of Tom Kha Gai per week.  If you pair that with a healthy Green Smoothie, you will be amazed!
For more information on the cold-fighting abilities of Thai soup, and for  a recipe, visit this site: http://shesimmers.com/2010/11/tom-kha-gai-recipe-tutorial-for.html
Trying new foods can be scary, but if you like lemon grass and/or coconut, I feel  confident that you will quickly become as addicted to Thai Food as I have!
Enjoy, and stay healthy!