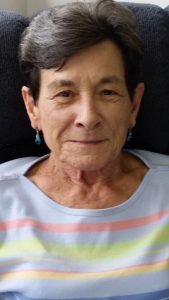 Betty stopped smoking July, 2015 and is still smoke-free.
Notes from July, 2015:
Even though I love the feeling and relaxation of a shower, I used to dread getting into the shower. I hung my oxygen mask close by on the towel rod so I could put it on, quickly. During the showering process, I became exhausted! Right after showering, I headed straight for the toilet to rest and put the oxygen mask back on so I could breathe, rest and get my energy back to walk to another room.
Last night, I did NOT get tired in the shower. I stopped smoking 4 days ago and already have more energy. You just don't know how good it feels to shower without feeling breathless.
Six years ago, in 2010, I had a heart attack. Since 2006, I have suffered from COPD.
When I talked with Leslie Lyon at The STOP Clinic, July 2015, she told me she would help me stop smoking. She also wanted to help me with my diet so I could feel better and have more energy. My diet consisted mainly of fast foods and diet drinks. Now, I am eating better foods and drinking water instead of soda. Since working with Leslie, I have had no cigarettes, no sodas and no caffeine.
With the COPD, my chest used to hurt with severe pain. Doing simple chores around the house like emptying the clothes dryer or doing dishes caused great discomfort.
Now, since I stopped smoking, I have NO pain in my chest. Just after 3 days of stopping smoking, the chest pain left. I can breathe deeper; I have more energy; I can sleep through the night; and, "the elephant" that used to "sit on my chest" is GONE!
I used to use a nebulizer 4 times a day and an inhaler 4 times a day. Since my first treatment, I have not needed the nebulizer once. I still use the inhaler about once per day if I get angry or stressed. I am not sure I even need the inhaler any more since the chest pain is gone. My Medical Doctor and Pulmonologist were really surprised!
If I had known I could feel so good (even though I still have COPD), I would have stopped smoking years ago!
Betty Brown
Kinston, North Carolina